Structure of the Committee for Geodesy (DGK)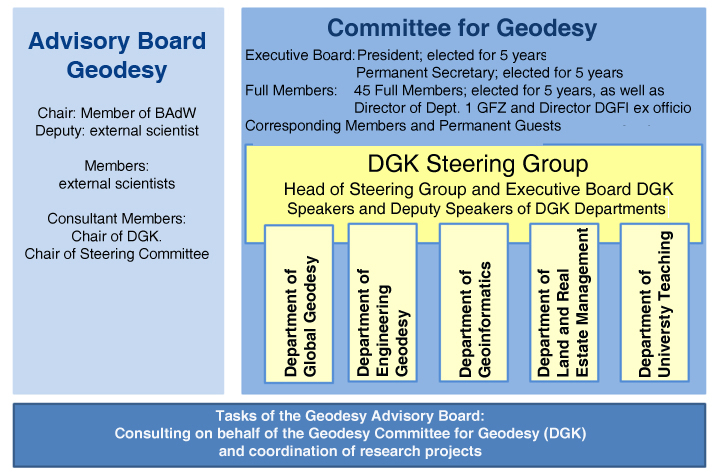 The former German Geodetic Commission (DGK) is now the Committee for Geodesy (DGK) of the Bavarian Academy of Sciences and Humanities, having retained the original acronym "DGK". The DGK comprises a scientific community.
According to its rules of order, the DGK has the following functions:
scientific research in all fields of geodesy
participation in national and international scientific projects
representation of geodesy within national and international frameworks
coordination of scientific research within the Federal Republic of Germany, as well as scientific consulting and the support of university and non-university institutions
coordination of the study of geodesy at the scientific universities of the Federal Republic of Germany
publication of scientific results and distribution of the publications.
The DGK awards the "Geodesy Science Award" ("Wissenschaftspreis Geodäsie") every two years.
The DGK holds regular annual meetings, as well as additional sessions when required.
The DGK consists of up to 45 Full Members, who are mainly full professors for geodesy at German universities. Scientists from other countries may be elected as Corresponding Members. The DGK also confers Permanent Guest status on representatives of geodesy-related institutions in order to promote interplay between geodetic research and praxis.
The DGK consists of Departments, which represent the research areas encompassed by the DGK, as well as a Department for University Teaching.

The DGK publishes its "Veröffentlichungen des Ausschusses Geodäsie (DGK)" encompassing series on Theoretical Geodesy, Applied Geodesy, Dissertations and the History and Development of Geodesy, as well as Year Books.

The "Veröffentlichungen des Ausschusses Geodäsie (DGK)" are sold by the Bavarian Academy of Sciences and Humanities.

contact: <post(at)dgk.badw.de>